CHUCK PYLE STYLE GUITAR WORKSHOP - 08.09.17
Sunday, October 8th, 2017 - 11am-1pm, at the Olde Town Pickin' Parlor in Arvada, CO
Jeff Troxel will teach a special two-hour workshop at the Olde Town Pickin' Parlor in Arvada, Colorado. Chuck Pyle's unique guitar style was woven so deeply into his songs that they almost can't be separated. If you've always wanted to know how Chuck created his unique "loping" style, this is a workshop that shouldn't be missed. As the music transcriber for Keepin' Time with Chuck Pyle, Jeff Troxel literally wrote the book on this style. In this workshop, Jeff will deconstruct and teach the techniques Chuck used to create some of his most popular songs.
Olde Town Pickin' Parlor
7515 Grandview Avenue
Arvada, CO 80002
303-421-2304
jefftroxel.com
AVOGADRO'S CHUCK PYLE TRIBUTE CONCERT AND SONG SWAP - 08.09.17
Sunday, October 8th, 2017 - 4pm, at Avogadro's Number in Fort Collins, CO
Avogadro's Number will feature their own special tribute show with a different format and lineup. The show will include a song swap followed by a tribute concert. The Avogadro's Chuck Pyle Tribute Concert will feature performances by Bill Hearne, Michael Hearne, Kelley Mickwee, Don Richmond, Jeff Troxel and Gordon Burt. Proceeds from the concert will also go to the Chuck Pyle Scholarship Fund at the Kerrville Folk Festival Song School in Texas.
Avogadro's Number
605 S Mason Street
Fort Collins, CO 80524
970-493-5555


AN EVENING OF THE MUSIC OF CHUCK PYLE - 05.23.17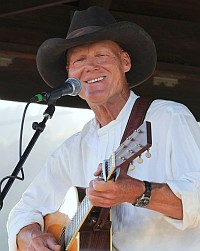 Saturday, October 7th, 2017 - 7pm, at Swallow Hill Music Hall
An amazing lineup of Chuck's musical friends will join together for an Evening of the Music of Chuck Pyle featuring Dakota Blonde, Bill Hearne, Michael Hearne, Gordon Burt, Richard Dean, Tom Munch, Jeff Troxel, Don Richmond, Kelley Mickwee and more. The proceeds from the concert will go to the Chuck Pyle Scholarship Fund at the Kerrville Folk Festival Song School in Texas.
Swallow Hill Music Hall
71 E. Yale Avenue
Denver, CO 80210
303-777-1003
ticket link
CHUCK PYLE TRIBUTE CONCERT - 05.10.16
Saturday, October 8th, 2016 - 7pm, at Swallow Hill Music Hall
Join Chuck's family and friends as we celebrate the life of a remarkable man and his music at this special tribute concert featuring performances by Tish Hinojosa, Chris Daniels, Jim Ratts, Gordon Burt, Richard Dean, Bruce Hayes, Hank Cramer, Prairie Como, John McVey, Moe Dixon, Jeff Troxel and more. Tickets will go on sale on May 17th. All the proceeds from the concert will go to the Chuck Pyle Memorial Fund.
Swallow Hill Music Hall
71 E. Yale Avenue
Denver, CO 80210
303-777-1003
CELEBRATION OF LIFE - 11.09.15
A Celebration of Life honoring Chuck Pyle will be held on Saturday, November 14 beginning at 11:00 AM at the Tri-Lakes Center for the Arts, 304 Hwy 105 in Palmer Lake, Colorado 80133
In lieu of flowers, the family requests that donations be made to the Chuck Pyle Memorial Fund. Donations can be sent to:
Chuck Pyle Memorial Fund
PO Box 726
Palmer Lake, CO 80133
COVER STORIES - 02.05.15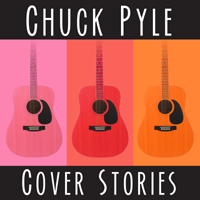 Chuck Pyle's new album Cover Stories is a collection of tunes by some lesser-known songwriters - like Pete & Lou Berryman, Walt Wilkins, Lynn Miles and Hayes Carll - songwriters whose work has been admired by other songwriters for years. These are 12 well-crafted songs beautifully rendered in 12 great performances by Chuck Pyle in his innovative finger-style, accompanied by Gordon Burt on fiddle and Don Richmond on steel guitar, dobro & mandolin.
THE SPACES IN BETWEEN - 01.18.10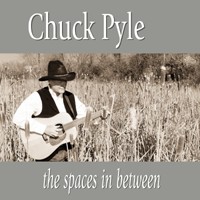 Chuck Pyle's 11th CD, The Spaces In Between, is a Western Pop journey through the edgy scenery of a master songwriter's mind. This is twelve all-new Chuck Pyle songs, each with his finger-style guitar out front and a crackerjack rhythm section in the background. The embellishments are elegant, with everything from fiddle to uilleann pipes, grand piano to ukulele, each song a hummable melody guaranteed to please, and with enough rhythm to make you tap your inner feet. Picking Out My Outfit is about a man's need to feel casual, Copper John is about fly-fishing's favorite nymph, and Wide Open is about Wyoming's bigness. In the middle of the night, he began writing down the words to Dream Song and the more awake he became, the better it sounded. The rest of the songs are classic truth-telling, one man's look from a life-in-motion. Chuck Pyle continues to dig deeper with each CD and, here, his style gets more traction, more gravity and grit. This is his most exciting work yet.
COLORADO VIDEO - 05.14.09
This video of me singing Colorado was shot in Pagosa Springs by the Killens, Michael & Dianne, on March 2009 for the RFDTV network. My first professional video... ain't life grand!
Chuck
MY GRANDPA'S HANDS - 03.04.08
I get a lot of mail about My Grandpa's Hands, in fact, so much so, that three of us can't keep up. Here's the story behind the song.
My first producer, Dik Darnell, once told me a story about a chieftain who was a sorcerer, an avatar who could alter reality, create storms and make things appear at will. He scared the US Army so bad that, when they finally killed him, they cut him up and assigned soldiers to bury each part of his remains in locations far away, known only to themselves. These soldiers were not only sworn to secrecy as to the whereabouts of these graves but didn't even know the identities of each other. To this day there is no record of the event, who gave the order, the names of the soldiers or where any of the remains are buried.
Sometime later I heard the story again from Buddy Red Bow and then, again, indirectly from Frank Fools Crow. Stories like this don't get passed down to young people anymore but they survive for some reason. I kept getting reminded of it when I would read stories of chieftains, like Sitting Bull or Geronimo, who possessed these same powers. Asian lore is, of course, full of sorcerers who harnessed the powers of the unseen world. But this account implied that there were American Indians who knew The Way and who acquired supernatural power, much like the avatars in Autobiography of a Yoga, or The Teachings of Don Juan.
When it came time to write My Grandpa's Hands, it almost wrote itself. I began with the last verse and finished that same day.
Chuck
WEDDING SONG - 11.06.07
Thanks, everybody, for your thoughtful notes about using Your Life In Love With Mine for weddings. Many people skip over this song because the bridge kind of wanders off, so I did a re-write. (I actually re-wrote it some time back, for a friend of mine who got married in Cabo.) I will just leave it here from now on so you'll know where to find it.
Hope it helps make it your sweetest day.
Chuck
HIGHER GROUND - Songs of Colorado - 07.07.07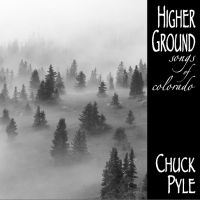 Chuck has just released his 10th CD, Higher Ground - Songs of Colorado. It includes three new songs and nine songs from earlier CDs. The one sure to become a favorite, a new original called Little Town Tour, names over 100 Colorado towns with populations under 3000, little towns where ranchers and farmers go to buy supplies and connect with their neighbors. Moonlight On The Colorado is a period piece, written by a W.W.I soldier yearning for his true love back home in Colorado. And John Denver's Rocky Mountain High is, of course, the new Colorado State Song. Every tune is a perfect fit. Some songs are dedicated to the beauty and others to the harshness that make the Colorado lifestyle so vital.
TRUE UNITY - 02.02.06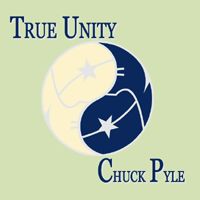 Chuck Pyle has just completed his ninth album, True Unity, departing from former producer, Doug Haywood, in favor of in-house producer, John McVey, out of Boulder's nationally-prominent Coupe Studios. While Pyle's finger-style guitar is out front, the player line-up reads like a Colorado "dream-team": Sally Van Meter, award winning dobro player and John Magnie, accordian player of the Subdudes, lend a hand to the solid beat of the fabulous eTones, house band for the syndicated variety show, eTown. Pyle's fiddle player, Gordon Burt, adds some tasty violin work but the final polish comes from the brilliant keyboardist, Taylor Mesple, son of Steve Mesple, founder of the Boulder-based band, Wind Machine. The musical styles are eclectic, a satisfying collection of swing, folk, cajun & pop, all sprinkled with Pyle's intelligent lyrics.
ROMANCING THE MOMENT - 09.15.05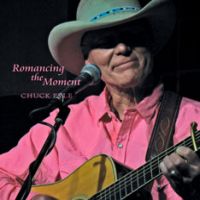 Chuck Pyle, the showman with flair and style - and the great hairstyle - is once again at large, and promoting his newest release, Romancing the Moment. Yup, finally!!! It's been over three years since Affected by the Moon, and we've been waiting ever so patiently. This newest CD re-establishes him as a ground-breaking guitar player and celebrates his considerable wit and charm onstage in a way that only a live CD could do. Romancing The Moment is Chuck's 8th release and is now available at his shows, at this website, and at Amazon.com.
Check out Chuck's songbook, Keepin' Time With Chuck Pyle, available now via mail order.
A letter from Chuck about Mercury